3.5 km Ziplining at Domaine de L'Etoile
| | |
| --- | --- |
| Location | East |
| Minimum Age | 12 |
| Operating Days | All Days |
| Duration | 1 hrs |
| Activity Time | Flexible |
| Transportation | Offered as Supplement |
| Comment | The activity is offered thrice a day at: 10h00, 13h30 and 15h30 |
This Activity Is Not Operational Until Further Notice
About the Ziplines at the Domaine in Mauritius
Take your need for speed to new heights in Mauritius, with this thrilling zipline adventure! Spreading over 1200 hectares of pristine forest in the vast mountains of the South-East, the 3.5 km zipline at Domaine de L'Etoile is an unparalleled experience on the island.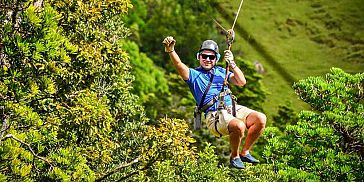 Let the friendly and professional guides show you our island from another point of view. Thrill seekers will get their fill of adventure and the adrenaline rush is only the beginning as you commence your ziplining adventure.
Drop down from a set of 7 zip lines, with the longest one being 800m long and a total ziplining distance of 3.5 km. While connected to the zip lines, you will fly over the domain, looking at spectacular panoramic views, indigenous forests, beautiful valleys, sparkling rivers, wild animals and endemic birds.
Upon your arrival at the nature reserve, you will be greeted by the friendly staff at the reception with welcome cocktails. You shall afterwards get on-board a Jeep which will take you further up the mountains, where the scenic ziplines await you for an exhilarating adventure. While journeying to the ziplines, you may come across deer and other animals which can make for some great photos. The guides will harness you up for the zip lines, followed by a briefing on the equipment and the safety precautions.
This is definitely a highly recommended package for nature lovers, adventure seekers and for anyone looking to experience an exceptional day. Come enjoy the beauty of the Domaine and create unforgettable memories through this exhilarating activity.
---
As part of the Zipline activity, the following is included: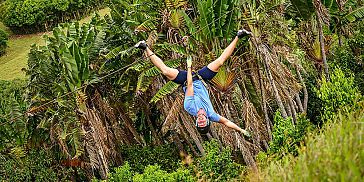 Welcome cocktail
Safety briefing
Jeep trip to ziplines
Set of 7 Zip-lines varying from 350m- 800m in length and 3.5km in total
5 viewpoints over the most preserved region in Mauritius
1-hour guided tour along the Zip-lines with professional guides
Sanitary caps with helmets and gloves
Refreshing towel after tour
---
About Domaine de l'Etoile
Previously a private hunting domain, and only recently opened to the public, Domaine de L'Etoile remained one of the most preserved regions of Mauritius.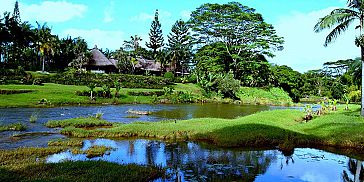 The domain counts English gardens, rivers, and indigenous woods which are rich in hundreds of different varieties of plants and trees, including the most ancient ebony trees of Mauritius and other endemic species as well as cinnamon trees, vetivers, orchids, traveller's trees, banana trees and more. A large river flows through the Domaine as well as trickling streams and flowing waterfalls.
Domaine de l'Etoile is best described as a wonderful and enchanting area where all nature lovers can enjoy themselves. A number of activities are offered, including, Quad biking, Horse riding and Hiking circuits. Visitors will witness, in turns, spectacular panoramas, Java deer and endemic birds.
There is also an onsite restaurant which presents a quiet and peaceful environment where guests can recall the special moments of the day while enjoying the tasty local cuisine.
---
Optional Lunch
The Domaine de L'Etoile restaurant is a ravishing restaurant found in the reserve, situated next to the Grand River South-East with stunning views onto the mountain.
As part of this package you also have the option to benefit from a delectable lunch at the Domaine de L'Etoile restaurant, where you can savour on a menu of the day. At this restaurant, you will be offered a typical Mauritian cuisine inspired from the diverse cultures present in Mauritius. The restaurant also proposes a fusion cuisine.
The irresistible charm of the restaurant is further enhanced by the beautiful natural surroundings and the thatched roof. The tables at Domaine de L'Etoile restaurant are set under the veranda of the main reception building. From here, you get spectacular views of the Mauritian mountains. On the foreground is the superb English lawn, which only accentuates the idyllic setting of the restaurant.
Note: The restaurant is closed on Mondays
Adults Classic Menu
Starters:
Pasta salad with Pesto, Tomato Mozzarella
Main course:
Mini Sandwich

white sandwich loaf, soft boiled egg, mayonnaise, watercress, tomato OR
french bread, chicken ham, butter, lettuce, tomato, cheese

Chicken Leg Tandoori
Chips & Puff Pastry
Cheese & Crakers
Dessert:
Season Fruits
Coconut Biscuit
Adults Formal Menu
Starters:
Crudités & assortment of sauce
Quiche with cheese & brède
Californian Roll, Sambal sauce
Main course:
Mini Sandwich - Bread with cereals, smoked marlin, horseradish cream, spring onions, fougasse, marinated grilled vegetables, tomato salsa, olive & pesto
Roasted chicken, potato salad with mustard & coleslaw
Prawn cocktails, pineapple & papaya
Dessert:
Soft chocolate
Season Fruits
Delicacies
Kids Menu
A choice of one of the following:
Chicken or fish nuggets, chip and juice
Marinated farmer`s chicken burger, chips and juice
Spaghetti Bolognaise or Carbonara, chips and juice
---
Additional activities offered at the Park
---
Comments
No. of Zip lines: set of 7, with the longest one 800m
Maximum weight: 120 kg
Maximum No. of people per group: 20 persons
No previous Zip-line experience required
Children as from the age of 13 can enjoy this activity but you have to be accompanied by an adult to sign the disclaimer
Pregnant women and physically challenged persons are not authorized to try this activity
Participants need to wear the helmets and gloves provided
It is recommended that participants wear closed toed shoes with socks
Do not forget: sunscreen, mosquito repellent and your camera
---
Prices
Price per participant: 60 Euro
Optional Lunch Prices:
Adults Classic Menu: 25 Euro
Adults Formal Menu: 29 Euro
Kids Menu: 14 Euro
This Activity Is Not Operational Until Further Notice
Dear Customer, to book this activity please contact us on +230 269 1000.