350m Nepalese Bridge + Park Visit + Mini Lunch
| | |
| --- | --- |
| Location | South |
| Minimum Age | 8 |
| Operating Hours | 08:00 - 16:00 |
| Operating Days | All Days |
| Duration | Flexible |
| Activity Time | Flexible |
Nepalese Bridge + Park Visit + Mini Lunch At Vallée Des Couleurs
Gear up for an adventure of a lifetime at the magnificent Vallée des Couleurs in the South of Mauritius, where you will enjoy great moments with the Nepalese Bridge along with your folks.
A walk in the air on wooden platforms suspended high by solid ropes high above lush tropical green forests, pumps both your energy and excitement to creating life experiences like never before. This safe yet exhilarating activity in one of the will have you close to wildlife and nature as you cross the wondrous 350m long Nepalese Bridge, boosting your adrenaline and making you feel vibrant.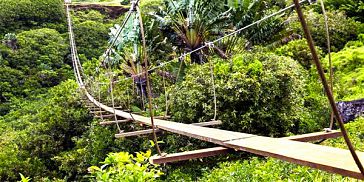 The Vallée des Couleurs nature park beautified with animals, tree ferns, wild orchids and endemic flowers such as the Trochetia (Boucle d'oreille / Ear ring) and the Bouquet Banané (achna Mauriciana), which only blooms at the end of every year. The unspoiled beauty of the 23 coloured earth, a landmark that has gained reputation worldwide, captures every heart and soul. You will furthermore be offered to enjoy a succulent mini lunch while contemplating the natural beauty around you.
---
The Nepalese Bridge + Park Visit + Mini Lunch Package includes:
Welcome Cocktail
350m walk on the Nepalese Bridge
Professional and attentive guides
Park Visit
Viewpoints: The Park is home to six natural waterfalls, the 23 coloured earth, endemic flora and fauna as well as an impressive panorama overlooking the sea.
Access to Kids Animal Farm
Access to geological museum
Mini lunch: Sandwich + mini fries + soft drink
---
About Vallée Des Couleurs - Nature Reserve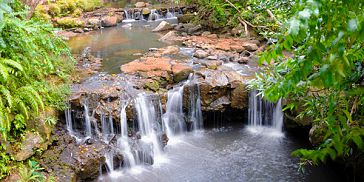 Nature lovers are bound to love Vallée des Couleurs. This vast reserve in the South of Mauritius, expanding itself over 450 acres invites for unique experiences in the midst of the indigenous fauna and flora alongside various fun activities and excursions for all ages. The unspoiled beauty of the land captures every heart and soul especially with the park's landmark-the remarkable and unique 23 coloured earth that has gain reputation worldwide. Discovered on the 4th of July 1998, the site endowed with pigmented soils fascinates Mauritians as well as foreigners. Visitors are treated with a range of natural unique landscapes, including six wondrous waterfalls, plateaus, mountains, valleys, craters and crater-lakes.
The visit of Vallée des Couleurs begins with the access to the park's exhibition room which provides an outline of the different places of interest which you will discover through your visit to this nature park. You will equally visit the small museum where you will discover a panoply of various types of volcanic stones, among which you have gemstones.
You will also enjoy a walk through the fern garden, without which any visit at Vallée des Couleurs would be incomplete. This is where you get to see the beauty of tree ferns, wild orchids or other endemic flowers like the Trochetia (Boucle d'oreille / Ear ring) and the Bouquet Banané (achna Mauriciana). The park is also home to tortoises, monkeys, stags, fish and also birds such as the Pink Pigeon, Paille en Queue, Cateau Vert with various endemic trees like the Ebony, Bois de Natte, Takamaka and other rare plants also contributing to the beauty of the park.
---
Comments
Region: South
Level: Easy-Moderate
Minimum age requirement: As from 8 years old
Height Restriction: Minimum height of 1m10
Restriction: Pregnant women are not allowed to participate for security reasons
What to bring: It is recommended to bring hiking shoes, sunscreen and mosquito repellent, spare set of clothes, and camera.
---
Prices
Price per Participant: 39 Euro