All-Inclusive Sun Tanning on Floating Beach
| | |
| --- | --- |
| Location | North West |
| Operating Days | All Days |
| Duration | 6 hrs |
| Activity Time | 10:00 - 16:00 |
| Transportation | Offered as Supplement |
Sun Tanning on Floating Beach (Z'ile Beach) – An All-Inclusive Unique Experience
Z'ile Beach brings you a new and exciting way of enjoying your time at sea with this amazing floating beach concept.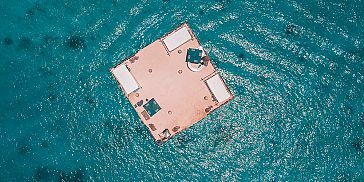 You and your friends or family will be able to step away from the commotion of the island and enjoy a peaceful atmosphere along with the warm tropical sun on this beautiful floating platform.
With the Sun Tanning on Z'ile Beach Package you can get the perfect suntan while enjoying the company of your loved ones and relishing canapés with exotic cocktails.
Additionally, in-between your tanning sessions, you can retreat to the large umbrellas for some cool shade and contemplate on the magnificent, picturesque surrounding views.
You will also be able to have a quick swim if you wish to. Chill-out music, delicious BBQ food and cocktail drinks will keep you company throughout the six hours of your 'Sun Tanning Day'. Enjoy an impeccable on-site service in the middle of the ocean with this all-inclusive package complete with food, beverages and shuttle services.
---
About the Floating Beach – Z'ile Beach
Z'ile Beach is an innovative concept which amalgamates a floating island with the blue lagoon in the north, hence making it the "Floating Beach". The Floating Beach is a platform moored in the middle of the turquoise lagoon in Mont Choisy, located at about 500m from the main shoreline with sand and artificial greenery.
Its 3 entrances are easily accessible through the free shuttle boat services. It also has an efficient set up, including umbrellas, stretched tents, comfortable seats, showers and a toilet.
The setup has been designed to ensure perfect buoyancy and stability. It can easily accommodate up to 80 people on sharing or for private rental.
---
Food & Beverages Menu
Marlin bouchée
Squid salad verrine
Smoked pork lentil verrine
Mushrooms vol au vent
Mini skewer of shrimps and fish
Peri-peri chicken wings
Mini chicken / beef burgers
Hot dogs
Grilled cheese sausage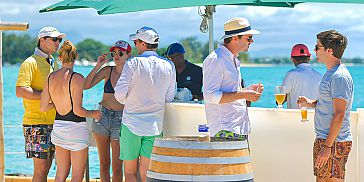 Drinks
Exotic punch
Mojito
Beers
Soft drinks
Note:
The package is all inclusive; including shuttle services, food & drinks, music and services.
---
Comments
Operating Days: Everyday
Activity time: 10: 00 – 16: 00
What to bring: We suggest bringing hats, extra sun block cream for sun protection, cameras, and swimsuits.
It is strictly prohibited to dive or swim under the platform.
Any children under the age of 14 or any person not able to swim must be equipped with a lifejacket when in the water.
Any person willing to swim in the sea around the platform should only do so in the secured swim area.
Any person that wants to swim in the water, must respect the secure swimming areas delimited by buoys.
Minor children remain under the full responsibility of their parents.
Any damages caused on the island or any structure on the island, will be invoiced to the responsible person.
No personal food or drinks are allowed on the island.
No alcohol drinks will be served to minors on the island.
---
Prices
Sun Tanning Day Package: 59 Euros /Person
Chill & Tan Gold: 79 Euros /Person