Chantauvent Guesthouse Day Package
| | |
| --- | --- |
| Location | South |
| Operating Hours | 10:00 - 16:00 |
| Operating Days | All Days |
| Duration | Flexible |
| Activity Time | Flexible |
| Transportation | Offered as Supplement |
This Activity Is Not Operational Until Further Notice
Chantauvent Guesthouse Day Package
Spend an amazing day with your family, friends or partner in the southern region of Mauritius at the Chantauvent Guesthouse!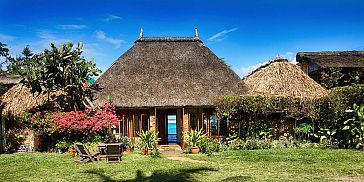 The southern part of the island remains the wildest region of the island. Situated in the beautiful coastal region of Blue Bay, Chantauvent Guesthouse is the ideal place to relax and enjoy fun water activities.
Make the most of this day package which includes complimentary water activities, a lunch, access to the guesthouse swimming pool and a 1-hour Glass Bottom Boat ride to discover the diverse marine life of the Mauritian lagoon.
Spend the rest of your day relaxing by the swimming pool or enjoy a variety of activities offered by the Chantauvent Guesthouse. During the day, you will also get to try delicious dishes as part of the complimentary lunch.
This classic day package at the Chantauvent Guesthouse is the best opportunity to unwind and relax.
---
About the Chantauvent Guesthouse Day Package:
Enjoy a relaxing day at the Chantauvent Guesthouse, a charming guesthouse located in the coastal region of Blue Bay. The guesthouse provides you with a list of fun activities to make the most of, during your day.
This is the perfect chance for you to strip away all the work-related stress and personal anxieties that have been plaguing your life. Take a well-deserving break to chill by the sea and reconnect with the simple joys of life.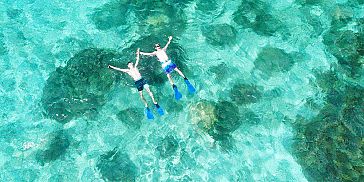 Experience a delightful one-hour glass bottom boat ride and admire iconic marine creatures such as hawksbill turtles and shoals of angelfish and clown fish. The wide variety of fish species that can be seen through the glass bottom include Damselfish, Surgeonfish, Butterfly fish, juvenile Sailfin tangs, as well as tiny Pipefish and large Trumpet fish.
Since Chantauvent offers you access to a boat house that provides you with snorkelling equipment, kayaks and paddle boards free of charge, you should definitely try these activities to fill your day with fun and have memorable experiences. Enjoy a snorkelling session in the calm and clear waters of the Indian Ocean and explore unique coral reefs whilst discovering a huge variety of fish. As part of this day package, you will get to enjoy a delicious complimentary a-la-carte lunch including a drink at the main restaurant facing the lagoon.
You will also have access to tennis courts, where you can play a friendly match with your friends or if you're looking for some downtime, simply relax in the pool. Additionally, you can try Chantauvent's selection of indoor games and have an amusing time.
Book a day package in this idyllic setting to discover the underwater treasures of the Mauritian lagoon and enjoy a day of rest and serenity, along with fun water games.
The Chantauvent Guesthouse Day Package includes:
Complimentary access to Boathouse activities – Kayak, SUP, Snorkelling
Access to Swimming pool
Access to Tennis court
Access to Guest House activities
Lunch + complimentary drink
1-hour Glass Bottom Boat Ride
Access to showers
---
Lunch Menu
Starters (Choose one)
Tomato Carpaccio served with hot and crispy fried goat cheese
Hot Mauritian Delicacies – Samosas, Chili balls, and salad of raw vegetables
Chicken Caesar salad
Fish salad with fresh cilantro garnish and a citrus vinaigrette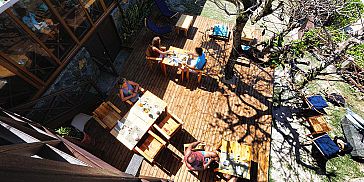 Main Course (Choose one)
Marinated grilled chicken leg served with a cassava and yam duet purée
Grilled lamb cutlets served with mildly spiced grilled veggies
Rib steak of beef chunks served with a red candied onion and seasonal veggies
Catch of the day in papillote with combawa (lime) and a crisp onion filled samosa
Desserts (Choose one)
Chocolate cake served with a vanilla ice-cream
Victoria pineapple tiramisu
Crispy banana tart with vanilla ice cream and chocolate sauce
Fresh seasonal fruits plate
Cup of ice cream (vanilla, chocolate, almond, mango sorbet)
Drinks: A glass of wine, 1 beer or 1 soft drink
---
The Chantauvent Guesthouse
The Chantauvent Guesthouse is a charming guesthouse located in the coastal region of Blue Bay, at Pointe d'Esny.
The guesthouse is ideally located by the sea, so you will have easy access to the beautiful Blue Bay beach where you will be able to unwind peacefully and enjoy quality time with your friend or your partner. Chantauvent gives you access to it's boathouse where you can enjoy a number of water activities, or you can settle in and enjoy their selection of board games.
Their sea-facing restaurant gives you the opportunity to enjoy a delicious local lunch whilst admiring beautiful views of the lagoon.
---
Comments
Glass Bottom Boat Rides offered: 10h00 - 14h00
All extras to be settled at the Restaurant directly
---
Prices
Price per Adult for the Chantauvent Guesthouse Day Package: 42 Euro / person
This Activity Is Not Operational Until Further Notice