Exclusive Swim With Dolphins + Visit Benitiers Island + Lunch
91% Level of Satisfaction
Based on 1 review
| | |
| --- | --- |
| Location | South West |
| Operating Days | Monday, Tuesday, Wednesday, Thursday, Friday, Saturday |
| Duration | 7 hrs 30 mins |
| Activity Time | 07:00 - 14:30 |
| Transportation | Offered as Supplement |
Private Swim With Dolphins Trip with Visit to Benitiers Island & Lunch - Overview
Enjoy an Exclusive and Private Full-day activity the islander way! Experience a thrilling boat ride, a once in a lifetime experience by swimming with dolphins, a visit to Benitiers Island and a delicious lunch.
Treat yourself and your friends / family / partners to a special day of adventure and fun specially tailored for your full satisfaction and enjoyment! This is definitely one of the best things to do in Mauritius.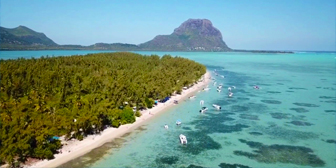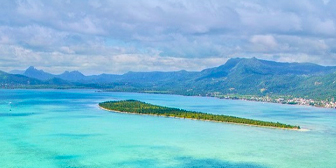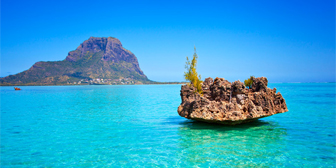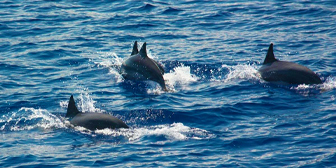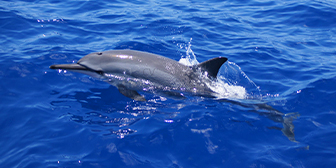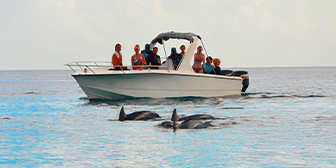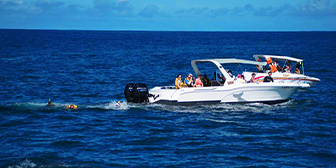 Highlights of the trip:
Full Day Exclusive Sea Trip onboard a speed boat
Live an experience of swimming with dolphins
Trip to the beautiful Benitiers Island for an extraordinary beach day
Cruising on the South West Coast of Mauritius
Visit the Crystal Rock and have a magnificent view of the le Morne Mountain
A delicious lunch on the island
Enjoy some relaxation time - have the leisure to tan on the beach or else walk around the endless beach of the island
Explore the amazing lagoons and coral reefs around the island
---
Private Swim With Dolphins Trip with Visit to Benitiers Island & Lunch - Inclusions:
Full Day Exclusive Sea Trip on the West Coast
Private swim with dolphins in the open sea
Leisure time on Benitiers Island
Delicious Private Lunch
Visit the Crystal Rock
Note:
Clients are strongly recommended to bring their own snorkeling equipment - mask, snorkel and fins due to sanitary measures. Otherwise snorkeling equipment (Masks and Tubas) can be rented for a small supplement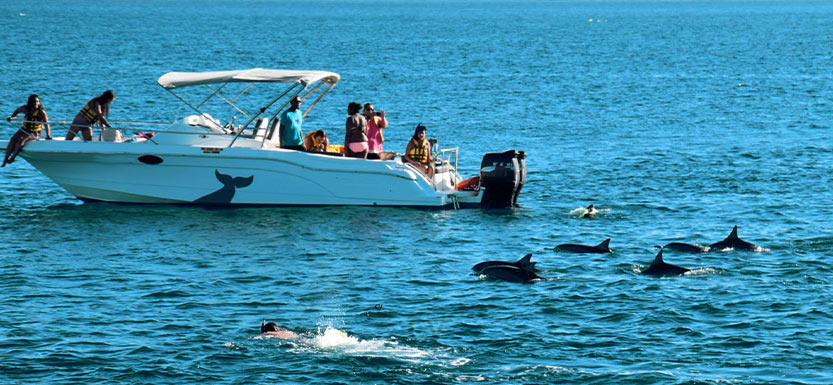 ---
Tamarin, South West Region
| | |
| --- | --- |
| Duration: | 7 hrs |
| Operational Days: | Monday, Tuesday, Wednesday, Thursday, Friday, Saturday |
| Activity Time: | 07:30 - 14:30 |
---
Exclusive Trip to Swim With Dolphins with a Visit to Benitiers Island & Lunch
Enjoy an Exclusive and Private Full-day activity of swimming with dolphins in Mauritius, including a visit to the Island of Benitiers and a delicious lunch.
Swimming with dolphins is an incredibly moving experience which will bring you into contact with strikingly beautiful scenery, unspoiled landscapes and wonderful marine animals. Imagine having a boat to yourself with only the people you love the most onboard, about to experience a unique feeling while swimming with dolphins. You will enjoy sharing this day with your special people and have a common memory of it to last you forever.
A moment to bond: Experiences like swimming with dolphins are probably the ones which mark us forever. The best way to make it more memorable is by sharing it with people who matter to us. Live this unforgettable moment together and feel this mutual happiness and sense of peace this trip will provide you with.
Early morning for calm waters: You will begin this day early in the morning. That is because early morning is when the sea is the most calm and when the dolphins come around to play, not shying away. Once you get on board the speed boat, the skipper will brief you on the experience you are about to have and on the day itinerary. Then you will be off for a wonderful two and half hours in the open sea with the dolphins! For 2 and a half hours you will be at sea, completely disconnected from worldly worries and just admiring the vast blue ocean.
Swim with the Dolphins: the west coast is particularly renowned for whales and dolphin watching. As part of this package you will do more than just watch them, you will get to swim amongst the friendly dolphins. Swimming with dolphins is an incredibly moving experience which will bring you into contact with strikingly beautiful scenery, unspoiled landscapes and wonderful animals. You'll plunge into the remarkable world of these marine mammals and come face to face with the dolphins. Unlike many other dolphin facilities that limit a swim with dolphins to pools or shallow water encounters, you will have the unique opportunity to enter the dolphins' natural environment and enjoy an encounter with the dolphins in the open sea.
Next Stop, Benitiers Island! After the 2.5 hours outing with the dolphins, you will be traveling to L'ile aux Benitiers (Benitiers Island). On the way to Benitiers Island the boat will stop for you to enjoy some snorkeling and swimming inside the lagoon. As part of the snorkeling you will be able to discover the reef from close, see many corals and plenty of colorful fish. Then the boat will continue its cruise heading south for a visit to the famous Crystal Rock which stands out in the middle of the lagoon. You will then get off the boat at Benitiers Island where you will have lunch and free time for you to enjoy on this beautiful Island. After lunch you will enjoy relaxation time - have the leisure to tan on the beach, walk around the endless beaches of the island or explore the amazing lagoons and coral reefs surrounding the island.
Lunch like a real Islander: As part of this activity package you will be treated to a real BBQ feast! BBQ chicken, fish, sausages, seafood skewers and salad, everything that screams Welcome to Paradise island through taste and flavour. As soon as you land on Benitiers Island, the cooks will start preparing your lunch while you get to explore around, or chat with them if you enjoy talking about food. The food is prepared using local fresh ingredients and is full of flavour!
A little information about Dolphins in Mauritius:
Dolphins are one of the most fantastic creatures that live in the ocean. The dolphins - cheerful and playful, symbol of intelligence and grace.
Dolphins lived in pods of around 20 individuals or more and can be observed swimming casually from Tamarin (on the west coast of Mauritius) on their way to the deep sea off the coast of le Morne peninsula, early in the morning.
The Dolphins, the Bottlenose Dolphin and the Spinner Dolphin, have made the West Coast of Mauritius a place for them to rest and sleep before going to the deep sea for their fishing.
The Bottlenose Dolphin is one of the most common and well-known dolphins. Bottlenose Dolphins are Grey in color and can be between 2 and 4 meters (6.6 and 13 ft) long, and weigh between 150 and 650 kilograms (330 and 1,400 lb). Bottlenose Dolphins live in groups called pods that typically are of 15 dolphins, but it is also possible to find groups of over 100 or even occasionally over 1000 dolphins. Their diet consists mainly of small fish.
The Spinner Dolphin is dark gray, with darker patches in the tail stock, back and throat. Usually it has creamy-white patch on the belly though this varies considerably. The beak is distinctively long and thin, with a dark tip. The fins too are lengthy for dolphins of this size. Adults have varied in size from 129 cm to 235 cm and weight from 23 kg to 78 kg. The gestation period is 10 months. Individuals reach maturity at 4-7 years (females) and 7-10 years (males). Longevity is unknown. Spinners congregate in groups that vary from just a few dolphins to great schools numbering in the thousands.
---
Snorkeling equipment

Sun cream

Towels

Swimming suit (already on)

Hats

Spare clothes
---
Exclusive Swim With Dolphins - Food & Beverages
After the 2.5 hours outing with the dolphins, you will be traveling to L'ile aux Benitiers for lunch and spend the afternoon in a magnificent lagoon. The wonderful cooks will start preparing the lunch as soon as you will be on the island and within an hour you will be eating a delicious menu comprised of:
---
| Exclusive Swim With Dolphins + Visit Benitiers Island + Lunch | |
| --- | --- |
| For up to 8 Participants | 395 Euros |
| Lunch per Participant | 29 Euros |
Important Details to Submit
In order to process your booking, client MUST provide the following details at the comment box during the order process:
Name of each participant as per the passports
---
Reviews
91% Level of Satisfaction
Based on 1 review
|
reviewed by Rose-Marie van den Bogert – South Africa
|
September 27, 2019
Reaction time to your queries and requests
Travel consultant's professionalism level
Added value given to you by the travel consultant
Consultant's knowledge of Mauritius and the products / services
Overall satisfaction from the customer support service
Level of services provided as part of the activity?
Level of professionalism by activity operator staff / guide
Your level of enjoyment from the activity
Quality of meals & drinks included (if applicable)
Ease of booking the activity
Overall satisfaction from the activity
Amazing excursion and experience. The team was very helpful and we had an amazing day. Thank you Dolswim for always delivering
---