Ile Aux Cerfs Island- Exquisite Indian Menu
100% Level of Satisfaction
Based on 1 review
| | |
| --- | --- |
| Location | East |
| Operating Hours | 09:30 - 17:30 |
| Operating Days | All Days |
| Duration | Flexible |
| Activity Time | Flexible |
| Transportation | Offered as Supplement |
| Comment | Boat transfers to/from Ile aux Cerfs are available every 30 minutes during operating hours between 09.30-17.30 (May to October) / 09.30- 18.00 (November to April) |
Parasailing Is Not Available Until Further Notice
Ile Aux Cerfs Island- Exquisite Indian Menu
Tap into the flavours and colours of India with this mouth-watering set menu on the paradise island of Ile aux Cerfs. This Ile aux Cerfs tour is the ideal choice for the traveller who is looking to enjoy the Sun, white sandy beach, turquoise lagoon with a taste of India.
Spice up this memorable and enjoyable Ile aux Cerfs island tour including an Exquisite Indian Menu. This tour lets you relax and recharge your batteries amidst the sandy expanse of soothing beach as well as make you discover simple preparation and distinctive seasoning which combine to create the finest dishes with vibrant, unexpected flavours.
The Ile aux Cerfs Island tour includes: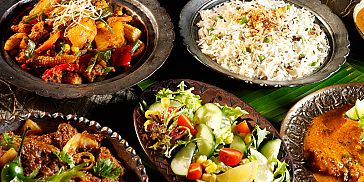 Boat transfers in a comfortable motor boat to Ile aux Cerfs and back to shore
Welcome fruit cocktail at the famous Ile aux Cerfs Sand's Bar
Sun Mattress for the day
Exquisite Indian set menu [finest Indian dishes of chicken, fish and vegetables] for lunch served at the La Chaumière Masala Indian Restaurant which offers a traditional and fusion Indian cuisine
Drinks Package [0.5 LT water + 1 soft drink or 1 beer or 1 juice]
The Ile aux Cerfs day tour starts with a boat transfer to Ile aux Cerfs Island. The boat transfer is done in the comfortable spacious motor boat, and the boat trip takes about 15 minutes. As you approach the island by boat, you will see the swaying palm trees and the pure white beaches framed by the vivid turquoise waters.
You will have free time to spend on the beach, going for a stroll, swimming in the lagoon, snorkelling or just relaxation and tanning.
At around noon time for lunch, an Exquisite Indian Set Menu is served at the La Chaumière Masala. Spice up your time on Ile aux Cerfs with the aromatic flavours of the subcontinent as detailed below:
About La Chaumiere Masala Restaurant (Ile aux Cerfs):
Situated on the Hillside of Ile aux Cerfs, the restaurant offers authentic Indian food that has evolved over centuries. It offers the best of contemporary Indian cuisine, a true delight of Oriental flavours.
Indian Set Menu
Starters:
Our signature appetizer platter Red Pepper Chicken Tikka, Punjabi Samosa
Avocado Chutney
Raita Katchumber & Chutneys
Tandoori bread basket
Main Course:
Grilled chilli-curry leaf Dorado
Coconut Chutney, Banana Chip
Dal makhni
Saffron rice
Dessert:
Home Made Rasgulas &
Kulfi Ice Cream
Drinks Package: 0.5 LT water + 1 soft drink or 1 beer or 1 juice
Menu Vegetarian Vegetable menu is available upon request. In case you would like a vegetarian meal, you are kindly please requested to inform us during the booking process.
Lunch Tips:
The Indian lunch is all about discovering the many flavours of the remarkable Indian cuisine.
Indian food is all about having a variety of dishes and sharing them around the table with family, friends and your loves ones.
Do not be afraid to experiment with the spice level, and if you opt for some of the more fiery selections!
Above all, have fun with the above Indian Feast Menu and discover the flavour of Indian food under the Tropical Sun of Mauritius.
Add-ons to your Ile aux Cerfs Experience:
All Inclusive Drinks Package during lunch (2 hours): House wine, Local Beer, Soft Drinks, Juice, Water
Parasailing - It is possible to organize for you to do parasailing during your time on Ile aux Cerfs. The parasailing offers you a breath-taking bird's eye view of Ile aux Cerfs Island, its beautiful beaches and the beautiful east coast lagoon, making it a truly memorable and worthwhile experience. You can go for the parasailing as individual or as a pair.
---
Comments
Opening Hours:

Sands Bar: 09.00 am- 05.00 pm
La Chaumiere Masala Restaurant: 12.30 pm- 3.00 pm

Boat transfers to/from Ile aux Cerfs are offered from 09.30 to 17.30 during May to October and 09.30- 18.00 during November to April. The boat transfers to Ile aux Cerfs are available every 30 minutes, accordingly you benefit maximum flexibility on the exact time you can start / end the tour
For an additional charge is also possible to organize for you to do parasailing during your time on Ile aux Cerfs
For an additional cost we can offer you the Unlimited Drinks Package (1 hour during lunch).

---

Prices

Price per Adult: 45 Euro
Price per Child (2-10): 32 Euro
Price per Baby (0-2): Free of Charge

Add-ons:

Supplement for all-inclusive drinks package: 24 Euro /person
Parasailing on Ile aux Cerfs – 24 Euro /person
Parasailing Is Not Available Until Further Notice
Reviews
100% Level of Satisfaction
Based on 1 review
|
reviewed by Jonas Singhal – Mont Choisy Beach Resort
|
April 04, 2017
---