Incredible Private Floating Beach Experience
| | |
| --- | --- |
| Location | North |
| Operating Days | Tuesday, Thursday, Friday |
| Duration | Flexible |
| Activity Time | Flexible |
| Transportation | Offered as Supplement |
| Comment | A maximum of 80 participants is allowed. |
Private Floating Beach Experience - Overview
Z'ile Beach brings you a new and exciting way of enjoying your time at sea. Celebrate the most joyous occasions in a unique setting with this amazing floating beach concept.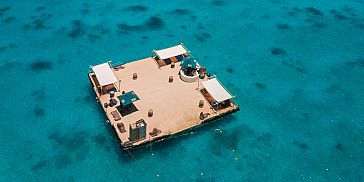 A private Floating Beach is the ultimate hideaway with a unique embodiment of luxury, privacy and freedom. The Z'ile beach platform can be an incredible venue for your reception or after party. Its secluded environment makes it perfect for parties and intimate get-togethers. What more could you want than a breath-taking setting, surrounded by turquoise waters for your dream wedding?
Or, step away from the commotion of the island with your partner and enjoy a peaceful atmosphere. This unique Floating Beach is situated in one of the most beautiful lagoons of Mauritius, allowing you to enjoy the warm tropical sun while escaping the strains of everyday life. This exclusive experience is ideal to bond with your loved one and enjoy quality time in a private setting.
You can also benefit from a list of extra activities such as water-skiing, water donuts, and massages, which are available at a surcharge. These activities can be combined with any one of the packages for a more wholesome and fun experience with your close ones.
Special Packages
Z'ile Beach gives you the splendid opportunity of enjoying any or a combination of these three fun packages aboard the floating beach:
Sun Tanning Day
Sunset Chill
Dinner Under the Stars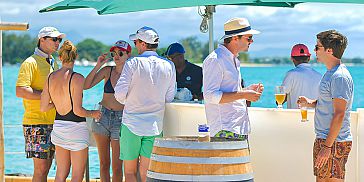 Sun Tanning Day
"Sun Tanning Day" is the perfect package for those wishing to have a great day out. Plan a fun day out at sea with your friends to spend a good time together sun tanning on the private floating beach, away from the usually crowded beaches of the island.
Celebrate a special occasion and share the good times by hosting your reception or party on this secluded piece of paradise. Enjoy the company of your loved ones while relaxing in the sun and relishing canapés with exotic cocktails. Additionally, in-between tanning sessions, you can retreat to the large umbrellas for some shade and to contemplate on the magnificent, picturesque surrounding views. To cool down you can safely take a dip in the lagoon, within the set perimeter around the platform.
Chill-out music, delicious BBQ food and cocktail drinks will keep you company throughout the six hours of your 'Sun Tanning Day'.
Sunset Chill
The 'Sunset Chill' package consists of spending a relaxing time onboard the floating beach at dusk. This is perfect for spending quality time with family members or catching up with friends in a cosy private setting.
Give your guests a brand new leisure experience, suspended between sea and sky, whilst, enjoying delicious finger canapés and sipping on exotic cocktails. Refresh their senses in a unique new way, as you get to see the beautiful tropical sun setting on the horizon and the island simultaneously. Honeymooners, friends and family will find themselves in a haven of privacy right on the water, where they will enjoy unparalleled views of the horizon and their natural surroundings in total privacy.
Unwind to the relaxing music playing onboard while admiring the magnificent backdrop of the dusky sky. The floating beach is easily one of the best sunset experiences you can have in Mauritius.
Dinner Under the Stars
The 'Dinner Under the Stars' package is ideal for the romantics at heart. Take in the breathtaking views as twilight takes over, a myriad of stars light up the night sky and the cool sea breeze gently ruffles your hair. This exquisite dinner with your feet in the sand is an incredible, dreamy experience.
This is an exclusive opportunity to dine in the middle of the Indian Ocean and offer your loved ones an unforgettable moment in complete privacy. Escape the hustle and bustle of the mainland, whilst still enjoying comfort, seclusion and an exclusive romantic atmosphere like no other.
Relax and unwind with delicious canapés and dishes, paired with exotic cocktails while calming music plays in the background. Spend quality time with your partner and make the most of this incredibly unique experience to create unforgettable memories. This is ideal to bond with those you hold dear to your heart, whilst also enjoying yourself on this unique floating beach.
---
Information about the Floating Beach
Z'ile Beach is an innovative concept which amalgamates a floating island with the blue lagoon in the north, hence making it the "Floating Beach". The Floating Beach is a platform moored in the middle of the turquoise lagoon in Mont Choisy, located at about 500m from the main shoreline with sand and artificial greenery.
Its 3 entrances are easily accessible through the free shuttle boat services. It also has an efficient set up, including umbrellas, stretched tents, comfortable seats, showers and a toilet.
The setup has been designed to ensure perfect buoyancy and stability. It can easily accommodate up to 80 people.
---
Food & Beverages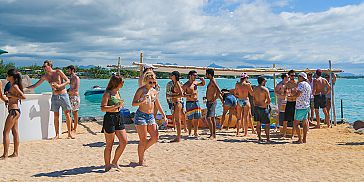 Sun Tanning Day
Food
Marlin bouchée
Squid salad verrines
Smoked pork lentil verrines
Mushroom vol au vents
Mini shrimp & fish skewers
Peri-peri chicken wings
Mini chicken/beef burgers
Hot dogs
Grilled cheese sausages
Beverages
Exotic punch
Mojito
Beers
Soft drinks
Water
Sunset Chill
Food
Marlin bouchée
Smoked pork lentil verrines
Mini shrimp & fish skewers
Beverages
Exotic punch
Mojito
Beers
Soft drinks
Dinner
Food
Peri-peri chicken wings
Mini chicken/beef burgers
Grilled cheese sausages
Beverages
Exotic punch
Mojito
Beers
Soft drinks
Available at a supplement
1-hour Massage
Couple Massage
---
Comments
Activity Time:
Sun Tanning: 10:00 - 16:00
Sunset Chill: 17:00 - 19:30
Dinner Under the Stars: 20:30 - 23:00
Duration:
Sun Tanning: 6 hours
Sunset Chill: 2 hours 30 minutes
Dinner Under the Stars: 2 hours 30 minutes
Note:
Maximum number of participants: 80
In case of more than 10 persons for the Catering supplement, please contact us
It is strictly prohibited to dive or swim under the platform.
Any children under the age of 14 or any person not able to swim must be equipped with a lifejacket when in the water.
Any person willing to swim in the sea around the platform should only do so in the secured swim area.
Any person that wants to swim in the water, must respect the secure swimming areas delimited by buoys.
Children remain under the full responsibility of their parents.
Night swimming prohibited.
Any damages caused on the island or any structure on the island, will be invoiced to the responsible person.
No personal food or drinks are allowed on the island.
No alcohol drinks will be served to minors on the island.
---
Prices
Sun Tanning
Less than 50 Persons: 1990 Euro
More than 50 Persons: 2250 Euro
Sunset Chill
Dinner Under the Stars
Dinner Supplement: 1299 Euro
Catering Supplements
Sun Tanning: 42 Euro
Sunset Chill: 26 Euro
Dinner Under the Stars: 32 Euro