Inter-Hotel Helicopter Transfer in Mauritius
| | |
| --- | --- |
| Location | All Regions |
| Operating Hours | 06:30 - 18:30 |
| Operating Days | All Days |
| Duration | Flexible |
| Activity Time | Flexible |
| Transportation | Offered as Supplement |
About The Inter-Hotel Helicopter Transfer in Mauritius
Experience a helicopter transfer between any two helipads (other than the Airport) where you will get to your destination faster and with a VIP treatment. To top it off, you will have the privilege to witness the sheer beauty of Mauritius through a bird's eye view!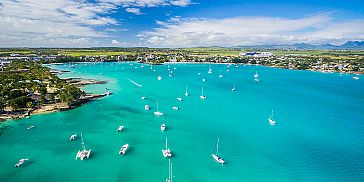 Board on the comfy and reliable Jet Ranger helicopter with 4 passenger seats to enjoy a direct hotel transfer in Mauritius. Save yourself time by avoiding the road traffic and simply sitting back and cherishing the awe-inspiring views of Mauritius, where you can view the magnificent blue lagoons, pristine coastlines, undulating sugar cane fields, meandering roads, majestic mountains and other spectacular views.
Throughout your helicopter transfer, the enthusiastic and experienced pilots will give you an overview of Mauritius as you fly over amazing landscapes and get to know the country's topography and contours en route to your hotel destination.
Helicopter Transfers Luggage limitation
The helicopters have limited storage place and accordingly, it is required to consider the luggage limitations when booking the transfer service.
Luggage limitations vary according to the number of passengers as detailed here below:
1 - 2 passengers: 2 suitcases (each of a maximum of 23 kgs) + 2 handbags
3 - 4 passengers: 1 handbag per person
In case your luggage exceeds the above mentioned luggage limitations, Mauritius Attractions can provide a luggage land transfer in dedicated vehicle directly from the airport to your place of accommodation. Such luggage transfer service is provided for a supplement of 45 Euro / way.
Mauritius Helipads
Should your hotel or place of accommodation not have a helipad, Mauritius Attractions can provide the transfer to the helipad closest to you at a supplement fee.
In such case, you will have to pay an additional amount to cover the landing fees charged by the operator of the helipad. The landing fees for using the helipads, varies as detailed in the table here below:
List of Mauritius helipads
Helicopter Services - List of Helipads
Region & Location
Particulars / Landing Fee
East Coast
1
Prince Maurice Hotel
Resident only
2
St Geran Hotel
Landing fee applicable to non-residents - MUR 1,500/- (excl vat)
3
Belle Mare Plage Hotel
Landing fee applicable to non-residents - MUR 1,380/- (incl vat) per landing
4
Le Touessrok Hotel
Resident only
5
Ile aux Cerfs Golf Course
For lunch & golf only
6
Domaine Anse Jonchee
Authorization required
7
Anahita
Resident of Four Seasons & Anahita only
South East
8
SSR International Airport
All customers and no landing fees
9
Domaine du Chasseur
Authorization required
South West
10
Le Paradis Hotel
Resident only
11
Bel Ombre Golf Course
Landing Fee applicable - MUR 1,800/- (incl vat)
12
Varangue Sur Morne
Clients using helipad but not having lunch - landing fee - MUR 2,000/- (incl vat)
Clients having lunch there - Landing fee - 50% discount
North West
13
Royal Palm
Residents only and before 15:00 only
14
Maritim Hotel
i. Resident of Maritim - Landing fee MUR 1,500/- (excl vat)
ii. Non-residents - Landing fee MUR 1,500/- (excl vat)
North
15
LUX Grand Gaube Hotel
Landing fee applicable to non-residents and operations after 09:30hrs - MUR 1,500 (excl vat)
---
About The Helicopter
The five-place helicopter is the safest single engine helicopter in the world. It is a turbine engine powered helicopter. The helicopter is fast, comfortable, reliable and provides an unrivalled view. The fleet comprises a seating with a capacity of 4 passengers plus the pilot. A trained and experienced helicopter pilot, according to global safety standards, will guide you throughout your amazing trip.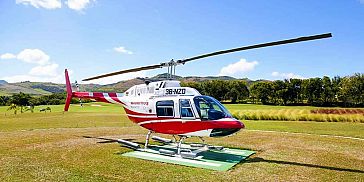 Registration: 3B-NZD
Make: Bell
Model: 206 Jet Ranger
Lifting Capacity: 500 kg
Crew: 1 Pilot
Passenger Capacity: 4 passengers
Engine: 2 single engines (Bell jet Ranger 206BIII)
---
Additional information
The fleet comprises of only modern helicopters, each with a seating capacity of 4 passengers
In case of 4 passengers on a flight trip, all 4 participants will have to comply to the weight restriction
All helicopter pilots are trained and experienced according to global safety standards
When booking any of the helicopter transfers it is in the responsibility of the client to follow all the luggage limitations and should it is required, to book a separate land transfer for their luggage
Note: Any delay by the passengers may result in the helicopter leaving without the passengers at the scheduled time.
---
Prices
Inter-Hotel Helicopter Transfer for up to 2 people = 725 Euro
Inter-Hotel Helicopter Transfer for 3 people = 835 Euro
Inter-Hotel Helicopter Transfer for 4 people = 945 Euro
---
Important Details to Submit
In order to process any helicopter booking, client MUST provide the following details:
Name of each participant as per the passports and the Gender
Nationality
Passport number
Date of birth of each participant
Weight of each participant
In case of any Children or baby, please specify same with the above details