Luxury Romantic Sunset Cruise with Gastronomic Dinner
| | |
| --- | --- |
| Location | North West |
| Operating Days | All Days |
| Duration | 4 hrs |
| Activity Time | 17:00 - 21:00 |
| Transportation | Offered as Supplement |
| Comment | Maximum booking - 4 persons |
This Activity Is Not Operational Until Further Notice
Catamaran Sunset Cruise + Gastronomic Dinner
Enjoy an incredible sunset cruise, ensuing a gourmet dining experience, aboard a luxurious catamaran.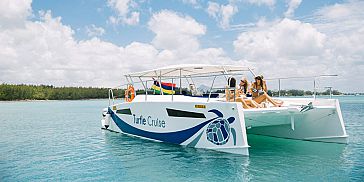 Whether it's a romantic evening out, a celebration with friends and family, or simply some downtime to unwind that you are seeking, this luxury intimate cruise will be an apt fit for you. As the sun goes down, you will set off on a relaxing cruise along the beautiful north-west coast of Mauritius on a catamaran, purely optimised for a highly smooth ride.
Toast at dusk to welcome the new evening with a bottle of sparkling wine and relish delicious light canapés provided to you onboard. In addition, you will have the benefit of complimentary beverages such as soft drinks, wine and beer. Lie back and admire the breathtaking scenery the sky paints for you as the sun begins to fade, gently lowering into the horizon.
You will have the splendid opportunity of enjoying first-hand the magnificent tropical sunset usually only witnessed in pictures.
To sustain an intimate and cosy atmosphere, the number of passengers onboard is limited to four, hence, freeing you from the worry of an overly busy crew and hectic vibes. You will be able to enjoy your cruise and bask in the spectacular sunset experience in all serenity. Additionally, a dedicated crew will be at your service throughout the journey, attending to your each and every need to their best of their abilities.
During the cruise, you will also get to experience a delectable gastronomic dinner. You will have the excellent choice between a main course of grilled lobster with garlic lemon butter, grilled beef tenderloin or a mixed seafood platter with lobster, prawn, calamari & mussels. Otherwise, you can opt for the best of both worlds with the Surf & Turf menu, offering a beef fillet and lobster or an equally delicious vegetarian menu. Savour the blissful flavours of the 3-course gastronomic dinner prepared by your private on-board Chef accompanied by an indulging service by your dedicated butler in the midst of gorgeous Indian Ocean.
---
Gastronomic Dinner Menu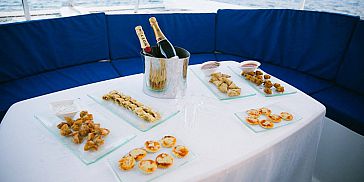 Beef Menu
Grilled Thai Beed with mixed greens, cucumber, carrot, herb and tamarind dressing dusted with rice powder
Grilled Beef Tenderloin with green pepper corn sauce, herb potato and vegetables
Philadelphia baked passion fruit Cheesecake with berries compote
Lobster Menu
Smoked Salmon and Lobster Medallion, traditional garnish with caper egg, onion, cucumber dill salad and honey mustard sauce
Grilled Lobster with garlic lemon butter, sautéed potato & vegetables, served with mixed salad & lime dressing
Pear and Almond Cream Tart with exotic food compote
Seafood Menu
Tuna Tataki on a bed of crunch vegetables, wasabi mayo and melon salad
Grilled Seafood Platter with half lobster, prawn skewer, calamari and mussels with parselet vegetables and potato, lemon beurre blanc
Chamarel Vanilla Crème Brulee with rice crisps, fruit tartar- mango sorbet
Surf & Turf Menu
Buffalo Mozarella and tomato with mixed greens, balsamic reduction, and basil pesto
Grilled Beef Fillet and Half Lobster with green pepper corn sauce, herb potato and vegetables
Chocolate Fudge Cake with semi-sweet chocolate ganache, coffee sauce and fruit tartar
Vegetarian Menu
Mixed Salad with balsamic dressing and goat cheese croutons
Stuffed Vegetables with Ratatouille, parmesan cheese, mashed potato and basil pesto
Black Rice Pudding with coconut sauce and fruit compote
---
About the Turtle Cruiser catamaran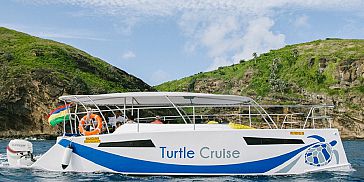 Designed and custom built in Mauritius by leading yacht developer Rayvin Yachts Ltd, the Turtle Cruiser is an innovative high-performance Power Catamaran. The Turtle Cruiser concept is different from other catamarans as it was conceived for privacy and exclusivity. Crafted with luxury, utility, and safety in mind, the catamaran is recognised for its stylish design as well as for its fast manoeuvrability.
Its system warrants fuel efficiency, low gas emissions, and negligible levels of vibration and noise, thus ensuring smooth rides to passengers. In addition, the Power Catamaran is equipped with all-modern navigational technology and safety devices, including top class GPS and Fishfinder technology.
Turtle Cruiser is fully licensed by the Tourism Authority of Mauritius to operate commercial catamaran excursions in the Republic of Mauritius.
On-board amenities
Top class GPS and Fishfinder technology: Garmin echoMAP 70s
Large covered cockpit and seating area
Two toilets and a fresh water shower facilities
Two trampolines and sundecks ideal for relaxation and sunbathing activities
Diving platform with swimming ladder
Two fishing rods and fishing rod holders
Swimming accessories; buoys, beach ball, inflatable mattress, etc.
---
Comments
Maximum booking: 4 persons
All participants are required to wear a Personal Flotation Device.
Snorkeling equipment is not provided due to sanitary measures. Clients are requested to bring their own - mask, snorkel and fins.
Guests under the age of 18 must be accompanied by an adult who is the parent, relative or legal guardian of the minor and must be under adult supervision at all times.
The Captain reserves the right to change/alter the itinerary at anytime during the trip (e.g due to adverse sea conditions).
Clients will be requested to sign a Personal Liability Agreement at the departure point, prior to the cruise.
---
Prices
Boat charter (up to 2 persons): 750 Euro
Additional adults: 175 Euro
This Activity Is Not Operational Until Further Notice