Mauritius Skydive - Tandem Skydiving
97% Level of Satisfaction
Based on 6 reviews
| | |
| --- | --- |
| Location | North East |
| Minimum Age | 15 |
| Operating Hours | 06:30 - 17:00 |
| Operating Days | Monday, Tuesday, Wednesday, Thursday, Friday, Saturday |
| Duration | 1 hrs |
| Activity Time | Flexible |
| Transportation | Offered as Supplement |
| Comment | Weight limitation should be between 40kg - 95kg |
Mauritius Tandem Skydiving – Experience skydiving in Mauritius
A Skydiving Adrenaline Pumping Adventure at its absolute best!
You will get to experience a 10,000ft skydive in Mauritius paradise island.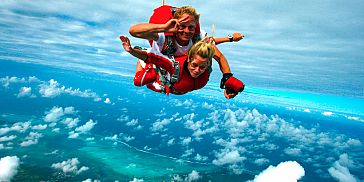 Enjoy Mauritius' most spectacular scenic flight and the most visually awesome Tandem Skydive you can ever imagine.
The flight before the jump offers a complete 360º bird's eye view of Mauritius's awesome coastal, inland and mountain scenery.
When reaching 10,000 feet, the aircraft door will open, and you will get to tandem skydive Harnessed to an experienced qualified Instructor.
Then, in the open air you will experience flying – free falling for about half a minute reaching a speed of 200 Km/hour, before the instructor will open the canopy and you will get to glide down in air for about 5 minutes, seeing the beautiful surroundings on your way down until the safe landing.
The take off is done from the magnificent Sugar Fields of Mon Loisir, with views of Mauritius's stunning lagoons and reefs stretching far into the Indian Ocean.
This is your once in a life time chance to fly over the top of one of the most spectacular island paradise's in the World.
The total duration of the skydive excursion is about 1 hour, with a 5-10 minute brief, a 25 minute flight to 10,000 feet, a 30- second free fall and 3-5 minute parachute flight.
After the jump you will receive a tandem skydive certificate, so you can remember this great experience for many years to come. Also, for a small additional cost you will receive a pendrive with the recording of your skydive.
What is Tandem Skydiving? Tandem skydiving refers to a type of skydiving where a student skydiver is connected via a harness to a tandem instructor. The instructor guides the student through the whole jump from exit through freefall, piloting the canopy, and landing. The student needs only minimal instruction before making a tandem jump.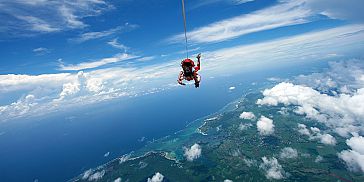 Tandem skydiving is a very popular training method for first time skydivers. It exposes first-time jumpers with minimal training and experience to skydiving.
The training before the jump may consist basic training of how to exit the aircraft, how to do maneuvers in freefall, and how to deploy the main canopy themselves. However, the tandem skydiving instructor remains primarily responsible for safe and timely parachute deployment.
Modern parachute equipment is very reliable and instances of malfunctions are rare. However, in the unlikely event of a fault with the main parachute, the system is fitted with a back-up reserve parachute to guarantee maximum safety.
For first time jumpers it is always recommend having a small bite to eat shortly before your jump to maintain your blood sugar level at reasonable level.
Frequently asked Questions
Will I need insurance? No need for any special insurance. The registration for your jump will automatically cover you for the mandatory Third Party Legal Liability Insurance.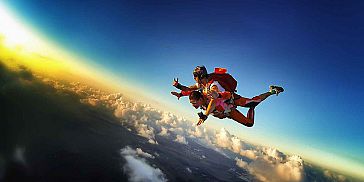 I wear spectacles / contact lenses. Will this be a problem? No problem at all. Goggles to fit over spectacles are provided, and these will securely retain your spectacles in place. The Goggles also protect contact lenses and prevent them from being displaced or damaged.
What if I feel too excited to jump on the day? Quite naturally, you will feel apprehensive before you arrive at the airfield. Once at the airfield, you will meet the qualified guides and receive a pre-jump briefing so you will know exactly what to expect for. Very soon your confidence will grow and by the time you board the aircraft, you will feel ready! Many people comment on how calm and relaxed they feel! The flight itself is about 20 to 30 minutes duration and the views on a clear day are magnificent. Even better from outside the aircraft!
Comments
Closed on Public Holidays and Sundays
The skydiving operations has all authorization from DCA and the ministry of tourism
All instructors are qualified with required certificates to operate Tandem Skydiving in Mauritius
There is full insurance cover for up to $1000000 per person
Each flight can accommodate up to 2 participants
This activity can only be carried out if weather conditions permit. The operator reserves the right to reschedule the activity should safety be compromised.
If participants have scuba dived 24 hours before the sky diving activity, they need to inform the operator.
A waiver form will need to signed by participants
Minimum age is 15 years old.
Weight limitation should be between 40kg – 95kg
For pregnant women and people suffering from heart problems, Asthma or other physical problems, doctor certificate/approval is required
The skydiving is offered everyday from 06:30 - 17:00 except on Sundays
Please bring with you suitable footwear - Training shoes or sport shoes are ideal
The full duration of the skydiving excursion is of about 1 hour
Customer can receive a Pendrive of their skydive (for additional cost) - Pendrive Should be booked at the airfield on the day of the activity
All instructor speak English and French
All participants must be physically and mentally capable to perform this particular activity and must not suffer from chronic illness and be on any medication or drugs
Skydive Prices
Booking Deposit - In order to secure the booking for the Skydive a deposit advance payment of 49 Euro / person is required
Outstanding Amount - The outstanding amount of Rs 12,300 / person (approx 238 Euro) should be paid on the day of the skydive activity directly at the airfield before the jump
Skydive Pendrive – you can also choose to have either pictures or videos of your Skydive saved in a Pendrive for an additional charge as from Rs 5,500. The booking and payment for the Pendrive should be done at the airfield before the jump.
Deposit Per Participant for the Tandem Skydive: 49 Euro / person
Reviews
97% Level of Satisfaction
Based on 6 reviews
|
reviewed by Vaishali Radia – To be advised
|
November 08, 2019
Reaction time to your queries and requests
Travel consultant's professionalism level
Added value given to you by the travel consultant
Consultant's knowledge of Mauritius and the products / services
Overall satisfaction from the customer support service
Level of services provided as part of the activity?
Level of professionalism by activity operator staff / guide
Your level of enjoyment from the activity
Quality of meals & drinks included (if applicable)
Ease of booking the activity
Overall satisfaction from the activity
Madavee was very helpful.
---
|
reviewed by Peter Wehrmann – Coral Azur Hotel Mont Choisy - ROOM 216
|
April 29, 2019
Reaction time to your queries and requests
Travel consultant's professionalism level
Added value given to you by the travel consultant
Consultant's knowledge of Mauritius and the products / services
Overall satisfaction from the customer support service
Level of services provided as part of the activity?
Level of professionalism by activity operator staff / guide
Your level of enjoyment from the activity
Ease of booking the activity
Overall satisfaction from the activity
---
|
reviewed by Tobias Graedel – Switzerland
|
October 01, 2017
Travel consultant's professionalism level
Overall satisfaction from the customer support service
Your level of enjoyment from the activity
Ease of booking the activity
---