Padi (Junior) Advanced Open Water Diver Course - Tamarin
| | |
| --- | --- |
| Location | South West |
| Minimum Age | 10 |
| Operating Hours | 08:30 - 16:00 |
| Operating Days | Monday, Tuesday, Wednesday, Thursday, Friday, Saturday |
| Duration | Flexible |
| Activity Time | Flexible |
| Transportation | Offered as Supplement |
| Comment | Course Duration: Three and a half days. This diving course can be done after completion of the PADI Open Water Diver Course. CLOSED on sundays |
PADI (Junior) Advanced Open Water Diver Course in Tamarin at the West of Mauritius
Looking for the ultimate adventure?
Looking to improve your diving skills, have more exciting experiences and gain more confidence while diving? Go for the PADI (Junior) Advanced Open Water Diver program that will boost your diving experience by helping you take your previously acquired set of diving skills to the next level.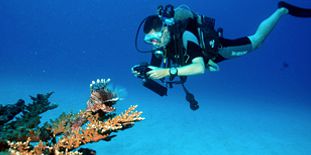 The course is open to novices, since it's designed to advance a beginner's diving proficiency after the PADI Open Water Diver course. Hone your underwater navigation skills and learn how to safely access deeper waters under the watchful eye of a professional instructor. You will get to build on what you've learned in the previous beginner course (PADI Junior Open Water Diver Course in Tamarin) and learn new advanced diving techniques and skills. This is the surest way for you to become a proficient diver - get more dives under your belt while continuing to learn in a safe and natural environment.
The PADI Advanced open water diver course is given in French, English and German (it is also possible to arrange courses in other languages upon request -minimum number of participants is required).
About the PADI (Junior) Advanced Open Water Diver Course
Underwater navigation
Deep water diving (typically anywhere from 18-30 meters/ 60-100 feet)
3 special adventure dives of your choice
The course includes 2 compulsory dives for you to learn and experience Underwater Navigation and Deeper Water diving (typically anywhere from 18-30 meters/ 60-100 feet). Additionally, you will benefit from 3 more adventurous dives, such as a ship wreck dive, a boat dive, a night dive or a cave dive, among others. The course includes theoretical sessions covering the basics of special dives along with 5 open water dives and an internationally-recognized certification.
What will you learn?
Practical aspects of deep diving
Physiological effects of deeper scuba diving
More ways to use your underwater compass
How to navigate using kick-cycles, visual landmarks and time
How to better use your dive computer and electronic Recreational Dive Planner
And much, much more - depending on the dives you choose
Included in Price
5 open sea deep dives
PADI course book
Logbook
PADI's theoretical exam
International PADI certification
Full diving equipment
Insurance
Comments
Course duration: 3 ½ days
Minimum age: 10 years
You should have a PADI Open Water Diver certificate (or qualifying certification from another training organization)
For the Advanced open water diver course, a medical certification of good health, not older than 1 year, is required.
The activity is accessible to anyone in good physical condition, not suffering from cardiovascular, hearing or respiratory problems.
The diving trip is not suitable for pregnant women.
Non-divers accompanying the participant can enjoy a free boat trip and snorkelling session (subject to availability).
The open water diver course can be completed in 3 ½ days, however, the exact number of days depends on the number of dives you will decide to go on each day
This trip is offered everyday except on Sunday
All year round Mauritius is a very safe and beautiful location for a diving holiday. Both beginners and certified divers can be sure to have safe enjoyable dives in these perfect conditions.
Additional information
To learn more about the diving conditions in Mauritius check our Diving in Mauritius page
You can also learn about the different diving course available in Mauritius, the general structure of a diving courses, and on the biggest diving organizations by checking our Diving Courses page
Price per Person for the PADI Advanced Open Water Diver Course: 395 Euro