Private Catamaran Sunset Cruise With Dinner - Grand Baie - Promo
80% Level of Satisfaction
Based on 2 reviews
| | |
| --- | --- |
| Location | North |
| Operating Days | All Days |
| Duration | 4 hrs |
| Activity Time | 17:00 - 21:00 |
| Transportation | Offered as Supplement |
| Comment | It is possible to customize the dinner menu as per your preferences |
Enjoy a romantic exclusive private Catamaran Sunset Cruise in Mauritius including full dinner and drinks.
Experience a tailored made private catamaran sunset cruise with your loved ones along the North West coast of Mauritius; this is definitely an enchanting way to enjoy romantic time, and is one of the most romantic things to do in Mauritius.
You will embark onboard the beautiful 40 feet catamaran and experience unforgettable 4.5 hours unique sunset cruise while enjoying a private romantic dinner served onboard the catamaran.
The sunset catamaran trip includes, snacks, full dinner prepared specially for you, and a variety of drinks both alcoholic and non-alcoholic served throughout the cruise.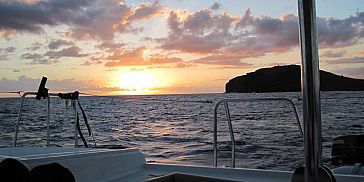 This Exclusive sunset catamaran trip is the ideal activity for romantic evening with your loved ones, birthday celebration, pre wedding celebration, reception on your wedding day, honeymoon cruise, or for enjoying a private cruise with friends and family.
The catamaran sunset cruise departs at 17:00 from Grand Baie (North of Mauritius). Expected arrival time back to Grand Baie is 21:00.
The setting for this trip is ideal, you will have your own private catamaran with clear blue water all around, beautiful sunset in the background, a top-of-the-line stereo system and a tasteful music collection, and a selection of cocktails and drinks served to you by the boat staff, which is there to attend your every need and desire.
You will get to cruise at a leisurely pace into Grand Baie's spectacular sunset while you sit back and relax with a refreshing cocktail from the bar. This is one of the finest ways to end the day and begin your night.
The sunsets seen on the north-west coast of Mauritius are legendary, and the best way to experience one is from the ocean. You will see a symphony of colors in the sky, a mixture of red, purple, blues, pinks and mesmerizing yellow.
The cruise will take you out of the lagoon, heading the direction of Coin de Mire Island (also known as Gunner's Quoin). You will also get to sail past Fort Malarctic, Cap Malheureux and other important historical sites of Mauritius, and have an excellent view of the other northern isles and on the central mountain range of Mauritius.
Sometimes during this trip you will be able to see whales as well as dolphins. If this will happen, the crew will stop the boat, in order for you to observe these great animals from close in their natural environment.
As part of the cruise you will also get to enjoy a full delicious dinner. The catamaran will stop sailing near one of the beaches for you to have the dinner, served on the catamaran in calm sea conditions. The dinner menu consists of a variety of salads, aubergines sautées aux oignons, grilled fish, grilled chicken, sausages and desserts. For vegetarian, upon advance notice, we can provide vegetarian meals.
This private sunset catamaran trip is all about having a romantic and relaxed evening on board of a catamaran, while enjoying the company of your loved ones or friends in total privacy.
About the catamaran
It is a spacious and stable catamaran vessel, 40 feet long, built for comfort, safety, ease of viewing and performance. It has large (and very popular!) flat decks and trampolines for lounging in the sun, a huge shaded cockpit with seating for all passengers, and it offers 360 degree views for easy spotting of the abundant marine life.
Onboard Facilities
Snorkeling equipment is available onboard (available in all sizes)
Stereo and Public Announcement system
Two large trampolines for sunbathing
Diving platform with swimming ladder
Prices
Price for the exclusive catamaran sunset cruise (bare boat): 395 Euro
Price per participant: 25 Euro
Reviews
80% Level of Satisfaction
Based on 2 reviews
|
reviewed by Hamad – United Arab Emirates
|
April 07, 2019
Reaction time to your queries and requests
Travel consultant's professionalism level
Added value given to you by the travel consultant
Overall satisfaction from the customer support service
---
|
reviewed by John West – Westin
|
April 17, 2017
Reaction time to your queries and requests
Travel consultant's professionalism level
Added value given to you by the travel consultant
Consultant's knowledge of Mauritius and the products / services
Overall satisfaction from the customer support service
Level of services provided as part of the activity?
Level of professionalism by activity operator staff / guide
Your level of enjoyment from the activity
Quality of meals & drinks included (if applicable)
Ease of booking the activity
Overall satisfaction from the activity
---