Stand up paddle (SUP) at Mont Choisy
| | |
| --- | --- |
| Location | North |
| Minimum Age | 14 |
| Operating Days | All Days |
| Duration | 1 hrs |
| Activity Time | Flexible |
| Transportation | Offered as Supplement |
| Comment | Activity Time: 10h00 – 12h30 OR 13h30 – 17h00. Maximum No. of People: 4 participants at a time. |
Stand up paddle (SUP) at Mont Choisy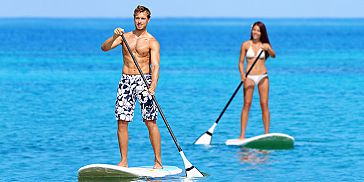 Stand up Paddle or simply SUP has become one of the most popular water activities on the planet.
We have the immense pleasure to offer you an amazing 60 minutes SUP activity in Mauritius, offered to you at the best affordable rate!
The SUP is easy to learn and it guarantees fun for absolutely everybody, whether alone, with friends, or family, including children.
For best conditions, the Stand up Paddle is offered at Mont Choisy, on one of the most beautiful lagoons with its crystal blue waters and ideal sea conditions all for having the best SUP experience in paradise.
Included in the Stand up Paddle experience:
The Stand up Paddle activity includes:
Safety briefing by a professional instructor on arrival (about 10 minutes)
Useful tips on using the SUP, and suggestions on recommended routes to discover
Rental Advanced SUP equipment including Board and paddle (60 minutes)
Buoyancy aids
Two rescue boats on immediate call (if needed)
More About the Stand up Paddling
Join our qualified team on the beach of Mont Choisy, found in the northern coast of Mauritius. This Stand Up Paddle starts with a full briefing on safety instructions and on how to control the paddling by one of our professional instructors.
Get ready to enjoy this marvelous water activity and discover the stunning landscape of the island in an eco-green way. No need to be physically super fit to practice this water activity, the paddle is very easy to use.
This is an original and fun activity which will let you explore the secrets of one of our island's most beautiful lagoons and popular beach.
As part of this exciting package, you will paddle standing up through the turquoise sea water and get captivated by calmness.
Two of our rescue boats are always on standby and we use SUP quality equipment, life vests and trapeze harnesses – all for your maximum comfort and safety.
After your SUP adventure, you have free time to relax on the beach, enjoying the beautiful ocean view.
So, join us for a day to experience an amazing SUP activity in the north; we guarantee you a brilliant time on the water!
Stand up Paddle (SUP) at Mont Choisy – Day Itinerary
Arrival at the departure point situated at Mont Choisy where you will meet the team of professional instructors.
Receive safety briefing instructions of about 10 min on land
Ride your Stand up Paddle discovering the lagoon and amazing coastline for 60 minutes
Return to the departure point and relax on the beach
About Stand Up Paddle (SUP)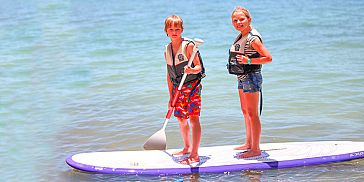 Stand Up Paddle (SUP) is a sport activity originated in Hawaii. It is a fun and adrenaline-pumping activity suitable for everybody – whether alone, with friends, or family, including children. The SUP is easy to control and after only a few minutes of learning you are sure to enjoy a great SUP experience riding your paddle!
Stand up paddle boards have enough buoyancy to stand, and therefore to see the set of waves coming from far away, and to go to the peak while staying dry (or almost). The paddle gives moreover much more power, what is useful to catch waves, and is a great asset to keep one's balance leaning on it!
SUP in Mauritius:
Mauritius is a paradise for Stand Up Paddle surfing because the Indian Ocean's waves breaking on the reef barrier give waves all year long from small to big! Our surfing spot is a safer location ans it is suited to each level. Add to this nice temperatures all year long and a magnificent landscape!
SUP offers a great way to discover Mauritius on the eco-friendly green side. Paddle standing up through the beautiful lagoon and get captivated by the calmness all around.
SUP – Safety first:
The Stand up Paddle activity starts with a full briefing on safety instructions as well as on controlling the SUP.
Two safety boats and a dedicated rescue team are always on standby.
Only the best quality SUP equipment is offered including also life vests and trapeze harnesses if necessary – all for your maximum safety & comfort.
The Mont Choisy Beach
Stretching almost 3 kilometers from Trou aux Biches to Pointe aux Canonniers, this is the island's longest beach: a gently curving strand of golden sand lined with a shady grove of filao trees on one side and by gentle, crystal-clear aquamarine water on the other.
The beach is characterized by its gentle arch which shows the waters curving as they hit the shores. It enjoys the panoramic scenery of the Indian Ocean, featuring gentle turquoise colored waters, powdery white shores and a rich marine life.
Comments
Operating Days: All days
Operating time: (Anytime during the following schedule): In the morning: 10:00 – 12:30, In the Afternoon: 13:30 – 17:00
Departure point: From Coral Azur Hotel, Mont Choisy
Duration: 60 minutes
Minimum age: 14 years and above.
Maximum number of people: 4 participants at a time
What to bring: Swimwear, suitable shoes, towels, water, suncream, caps
---
Prices
Price per participant for the Stand up paddle (SUP) – 60 minutes package: 19 Euro