Tamassa Hotel All-inclusive Evening Package
| | |
| --- | --- |
| Location | South |
| Operating Days | All Days |
| Duration | 5 hrs 30 mins |
| Activity Time | Flexible |
| Transportation | Offered as Supplement |
| Comment | Activity Time: 18:30 - midnight |
This Activity Is Not Operational Until Further Notice
An All-Inclusive Evening Package at Tamassa Hotel
Experience a unique and memorable evening of true luxury at Tamassa Hotel in the beautiful South of Mauritius.
This package at Tamassa is all about enjoying elite all-inclusive evening experience in one of the best all-inclusive hotels in Mauritius. Sit back and relax while being pampered with this all-inclusive evening package which includes a delicious dinner buffet, a selection of soft drinks and unlimited local alcoholic beverages at any of the resort's restaurants and bars.
After your dinner, the package offers you the opportunity to enjoy the spectacular Tamassa night show.
Located in Bel Ombre, this amazing all-inclusive hotel in Mauritius, gives a new definition to the ultimate all-inclusive holiday retreat. Surrounded by impressive mountains and dense sugarcane fields, this all-inclusive modern resort brings a lively feel to your vacation. It is the ideal destination for family, fun holiday or to spend an amazing time with your friends.
Spend Less and Enjoy Much More...This is a perfect evening of pampering, adventure and relaxation awaits you at Tamassa Hotel!
About the All-Inclusive Evening Package at Tamassa Hotel:
We have the extreme pleasure to bring you the Tamassa Evening Package where you will be pampered from the time you arrive till you leave this all-inclusive hotel.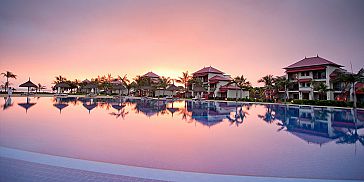 Tamassa Hotel, with its all-inclusive concept, offers a golden opportunity to satisfy all the senses with a luxurious evening package, starting from 6:30 pm until midnight.
This special evening starts with a very warm greeting by the hotel staff, followed by a welcome cocktail which you can appreciate as you settle in this blissful destination.
As part of the evening package, you will have a sumptuous buffet dinner with unlimited food to satisfy your appetite at the Show restaurant. Enjoy an unlimited supply of locally bottled alcoholic and non-alcoholic drinks all night - water, juice, soda drinks, beer, rhum and many more. So, eat and drink as much as you want till your stomach says stop.
Tamassa also means "party" in the Paradise Island! With such a name, no wonder this is a vibrant, fun resort which strives to keep your evenings interesting. It is not only of one the best resort with a night-club in this side of the island, but the whole property becomes a carefully staged show. Enjoy special shows at the B-Bar on the other days as part of this evening package.
The resort's entertainment shows are performed by genuine, enthusiastic and highly talented dancers, musicians and artists of every kind. From the rhythmic beat of the Mauritian Sega to the very best local music troupes and performers, every evening is an opportunity to experience something new and truly authentic.
We bring you a new concept about enjoying an elite evening experience in one of the best all-inclusive hotels in Mauritius, including dinner, unlimited drinks, entertainment and discount on spa treatment, just for you to enjoy the best during your holiday at best possible price!
The Tamassa All-inclusive Evening Package Includes:
Welcome cocktail at arrival
Buffet dinner with no limits to your appetite at Show restaurant
A selection of soft drinks (water, juice, soda drinks)
Unlimited local Alcoholic beverages (beer, rhum and other local drinks)
Special shows at the B-Bar on the other days.
Free Wi-Fi connection
Tamassa Hotel All-inclusive Evening Package – Dinner
After you have well settled with the cheerful ambiance, treat yourself to the delights of a sumptuous dinner buffet with unlimited food to satisfy your appetite at the resort's Show restaurant.
The main restaurant, Show offers buffet dinners from 7 p.m to 10 p.m. The open kitchen will add a spark of discovery to your night, as you observe the chefs preparing skillfully a variety of dishes. Fresh fruits, salads and pizza are the most popular, while three other food stations focus on European, South-East Asian and either Indian or Lebanese cuisines.
The B-Bar, opened from 9 a.m to midnight is a bright and cheerful lounge, with steel and glass fittings, armchairs around the bar, all for your comfort.
Whether you want to quench your thirst or simply want to sip a drink that will trigger your senses, the resort offers you a selection of soft drinks (water, juice, soda drinks) and unlimited local Alcoholic beverages (beer, rhum and other local drinks) at any of these two restaurants.
After your delicious dinner, the evening package invites you to enjoy the spectacular famous Tamassa night show or you can go to the spa for some relaxation moments.
Note: The B-Bar remains open only until midnight for drinks.
About Tamassa Hotel
A vibrant four-star beach hotel, situated at Bel Ombre in the South coast of Mauritius, Tamassa is the ideal place to create a lifetime experience!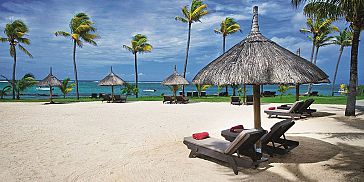 A refreshing retreat to the conventional tropical resorts, Tamassa has a unique charm to itself. Earth coloured roofs and walls made from local volcanic stones; shady coconut palms dotting tropical gardens on white sandy beaches; guestrooms facing sparkling ocean and aligned in arcs round the expansive pools, all these will truly capture your senses.
A modern, fun family holiday destination, Tamassa offers an all-inclusive concept where everything is carefully designed for a pamper and play approach to life. The all-inclusive concept features meals in any of the resort's restaurants, with a generous selection of soft and alcoholic drinks. There is an endless array of activities for both children and adults alike: from land and water sports, to daily resort activities, fabulous entertainment, access to gym and sauna, yoga and stretching classes…it's all included in your package.
The resort also invites you for complete relaxation, with the most beautiful beach this side of the island, well-spaced pools and shady coconut palms dotting abundant gardens. For those who wish to take a retreat, let yourself be pampered by the hotel's spa expert at LUX* Me Spa! From luxurious facials, massages and scrubs to energizing yoga classes and a large range of fun exercise programmes, you will find it all to enliven your body, mind and soul. All the spa treatments are designed to have therapeutic value and are carefully tailored for your needs. So feel better, lighter and brighter at LUX* Me Spa!
There is always something to do for everyone here…even if all you want to do is absolutely nothing at all!
---
Prices
Price per Adult for the All-Inclusive Evening Package: 65 Euro / person
Price per Child (4-12): 35 Euro
Supplement For Room Day Use: 95 Euro
This Activity Is Not Operational Until Further Notice