Zookeeper for a Day Kids Package at Casela Park
| | |
| --- | --- |
| Location | West |
| Minimum Age | 8 |
| Operating Hours | 09:00 - 17:00 |
| Operating Days | All Days |
| Duration | 4 hrs 30 mins |
| Activity Time | 08:30 - 13:00 |
| Transportation | Offered as Supplement |
| Comment | The park is open daily from 9am to 5pm, except on Saturdays until 9pm for Casela By Night | This Excursion is offered to children aged 8 – 14 years during Saturdays and on special occasions. Please enter the name of each participant as well as their resp |
Opportunity for Kids to live the life of a Zookeeper for a Day at Casela Park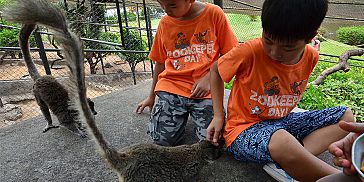 Join the only Safari and Bird Park in Mauritius and give your child the unique chance to go behind the scenes as a real zookeeper.
The Casela Park is a true animals' sanctuary, housing over 1,500 species of birds, lions, tigers, zebras, ostriches, giraffes and many other African animals. As such, the Zookeeper for a Day package presents a wonderful opportunity to the children to spend half day in the different sections of the park assisting the zookeepers.
From food preparation to distribution, through the observation of animals or enrichment for their living environments, the children will experience the duties of a zookeeper and will be sensitized about the protection of biodiversity.
This interesting kids' package also includes the park's entrance ticket, a "Zookeeper" t-shirt, lunch, refreshments and a group photo session.
This Zookeeper for a Day activity is perfect for the young ones to learn about the animals and get closer to nature!
About the Zookeeper for a Day Kids Package at Casela Park:
We know how hard it is to entertain children when boring playground activities no longer do the trick. At Casela Park, parents will not have to worry as the unique Zookeeper for a Day activity will surely keep the children busy and happy for hours.
This enriching activity is offered to children between 8 - 14 years where they will spend the day with the park's animal care staff. This is very much a hands-on experience which will give the children an insight into the amazing amount of work that goes on behind the scenes at Mauritius only Safari and Bird Park.
On arrival at Casela Park, you will be warmly greeted by the staff members, followed by a presentation on the park by your zookeeper host of the day. The latter will also provide you with a briefing on the day's activities and on the essential safety rules. You will also be presented with a T -Shirt entitled "Zookeeper" which you will wear during the day and be more inspired in the shoes of a zookeeper.
As part of this Zookeeper for a Day package, you will participate in up to 3 of the below activities (depend on the age and number of children):
Petting farm: Feeding of animals with feeding bottles (calves, goats, sheep, fawns etc.), cleaning, distribution of food, brush or wash some animals
Giraffes: Release from night pen, cleaning of their enclosure and feeding
(1 bag of feed and 1 bottle of milk is offered)
Aldabra giant tortoises: Cleaning of the shells and distribution of food
Distribution of food for the koi carps and observation of some species by using technical sheets
Distribution of food, observation and counting of Pink flamingos
Distribution of food and cleaning in aviaries
Preparation and distribution of enrichment for birds, monkeys
Need a break? Take a pause and replenish your energy with a light snack which consists of a cereal bar and water. After a busy morning getting up close with wildlife, budding zookeepers can enjoy a tasty lunch - a choice of chicken or beef burger and water or juice - served between 12:00 to 13:00. Wrap up your day with a summary of your experience and a group photo session as a special reminder of your enriching day.
This day package is all about discovering the amazing African's Savannah of Mauritius in a unique way. You will leave with lots of interesting, new knowledge and memories to cherish forever.
Day Program of the Zookeeper Kids Package
08:20 - Meet at the entrance of "Casela World of Adventures" + Filling and signing the consent form
08:30 - Welcome and presentation of the park + Safety rules + Distribution of a T -Shirt "Zookeeper"
09:00 - Activities in the park*
10:00 - 10:30 - Snack break
10:30 - 12:00 - Continue with the activities*
12:00 - Lunch break + Summary of the day (knowledge acquired, emotions felt, etc)
13:00 - Group Photo + End of the activity and return to the park entrance
Note: During the activities, refreshments will be available.
Comments
This activity can be enjoyed from 08.30am - 13.00pm.
The Zookeeper package is offered to children as from 8 years old.
Duration of the Zookeeper activity: 4.5 hours
While booking, the child's age must be mentioned.
This activity is led by a friendly and experienced zookeeper host.
We advise you to wear shorts/pants, sport shoes, caps and sunscreen, boots and raincoats (depending on weather conditions)
Long hair must be tied and carry a small backpack for your personal belongings.
---
Visit of the Casela Nature Park - World of Adventures
Important: The Zookeeper for a day activity is done at the Yemen Reserve which is part of Casela Nature Park.
About the Casela World of Adventures: The Mauritius Casela Park is a real nature and adventure park. It is located besides the Rempart Mountain on the South-West of Mauritius offering magnificent views of the countryside rolling down the west coast of Mauritius.
Visit to the park includes:
Toboggan (Avalanche Mines) - a thrilling fun ride on the first toboggan slide in Mauritius. The Toboggan includes two slides placed on a slope on which one slips with buoys.
Tulawaka Gold Coaster – an adrenaline-inducing alpine coaster that runs along 800m. Perfect for all thrill seekers. It can be ridden solo or in tandem.
Walk thru the aviary - Walk through the bird aviary and interact with various colorful bird species from around the world.
Safari photo - This great value tour lets you find yourself face-to-face with zebras, ostriches, deer, African antelopes, white rhinoceros, impalas and kudus during a unique safari tour on-board one of the safari vehicles.
Big Cats Kingdom - For Big Cats lovers, this is a dream come true! Visit the Big Cats' park to enjoy a close view of the lions, caracal and tigers.
Giraffe and pygmy hippo viewing - Come face to face with these majestic animals for a unique viewing experience.
Camel and llama viewing - Meet the camels and llamas, considered as one of the friendliest and most loving animals you will ever meet. Spend some time getting to know these amazing creatures.
Monkey Kingdom - have some fun watching the long-tailed monkeys skip and hop about, in their enriched, natural habitat.
Kid's playground - A new kid's playground that will offer sensation to the young ones!
Petting farm and Tortoise pen - Ideal setting for people of all ages, especially children to interact with farm animals as well as tortoises.
3D Interactive Map and 4D Cinema
---
Comments
Tulawaka Gold Coaster: Riders can go solo as from 12 years old (minimum height 1m40) or in tandem. Those under 4 years old should be accompanied by an adult
Included in the package: 1 Bottle of Milk & 1 Bag of Animal Feed
The park is open every day except on the 25th December and 1st January
---
Prices
Zookeeper for a Day kids Package (ages 8-14): 59 Euro / child